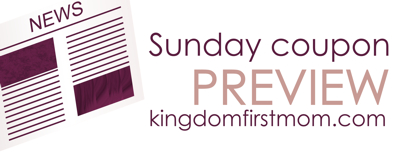 Happy Saturday! There will be three inserts in this Sunday's paper: 1 Procter & Gamble, 1 SmartSource, and 1 Red Plum.
Keep in mind that coupons always vary slightly by region. All new coupons have been added to the Coupon Database.

If you are in need of more coupons this week, check out my coupon resources page.

For the full list of coupons in tomorrow's paper, check out Deal Seeking Mom.
Here are my favorite coupons:
Procter & Gamble
$1.50/1 Always Discreet Liner or Pad Product
$1/1 Cascade Dishwasher Cleaner
$2.50/1 CoverGirl +Olay Product
$1.50/1 Crest Rinse
$4/2 Head & Shoulders Full Size Product
$0.20/1 Ivory Body Wash or Bars
$1/2 Oral-B Glide Floss or Glide Floss Picks
$0.20/1 Secret Deodorant
$2/1 Tide Detergent
$6/1 Venus Razor Blade Refill Pack
SmartSource
$3/1 Aleve PM Product
$0.50/1 Cheerios Original Cereal
$1/1 Colgate 360 or Slim Soft Manual Toothbrush
$1/2 Dole Fruit & Oatmeal
$1.50/3 Hershey's Reese's, Kit Kat, Hershey's, York, Almond Joy, Mounds, Payday, Jolly Rancher, Milk Duds, Whoppers or Twizzlers Snack Size Bags
$1.50/1 Melitta Cafe' De Europa Coffee
$0.50/1 Nature Valley Granola Bars, Granola Thins, Soft-Baked Oatmeal Squares or Breakfast Biscuits
$1/1 Oxiclean Laundry Detergent
$1/1 Thomas' Bagel
Red Plum
$3/1 Advil Congestion Relief, Allergy & Congestion Relief, Cold & Sinus or Allergy Sinus Product
$1/1 All Product
$1/1 Biotene Product
$1.50/1 Clear Scalp & Hair Product
$1.50/1 Degree Women Premium or Women Clinical
$1/1 Dove Beauty Bar
$1/1 Dove Men+Care Face Care Product
$1.50/1 Dunkin' Donuts Coffee Creamer
$1.25/1 Hefty Tall Kitchen Trash Bags
$0.75/2 Horizon Macaroni & Cheese or Snacks
For a preview of Walgreens deals next week, stop by Couponing 101. For the scoop on CVS, visit Deal Seeking Mom. To see what is on sale at Rite Aid, check out Centsable Momma.
And don't forget about our weekly $5.00 Drugstore Challenges on Saturday night!