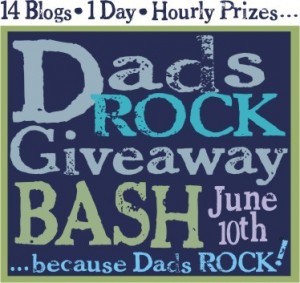 Well it is officially June, and if you are like me, you are still scratching your head wondering where May went! That means Fathers' Day is right around the corner. A day that for me, is usually bittersweet.
But this year, I am excited to team up with 13 other blogging moms to host a HUGE Fathers' Day Giveaway Bash on June 10th. Mark your calendars! We will be announcing giveaways on our blogs every hour, with literally thousands of dollars worth of amazing prizes for DADS.
This is a huge undertaking for a blogger (especially one like me who typically posts only once per day, ha!), but it was such a fun opportunity to bless our readers, I could not pass it up.
To keep up with all of the Dads Rock news and announcements, be sure to do the following two things:
1. Become a fan of Dads Rock on Facebook (we've already announced a few of the sponsors!)
2. Follow the #dadsrock hashtag on Twitter
Each site listed below will be hosting MASSIVE amounts of giveaways on June 10th:
Balancing Beauty and Bedlam
Common Sense With Money
Faithful Provisions
Fashion Cents for Mom
Hoosier Homemade
I Go BOGO
Kingdom First Mom
Moms Need To Know
Mrs. Moneysaver
Passion for Savings
Penny Pinchin Mom
She Saved
Surviving the Stores
The Thrifty Mama
We have all been working together behind the scenes over the last few weeks gearing up for this event. It has been a little crazy, but mostly fun!  Be sure to pop over and get acquainted with each one.
Tell me, what is your hubby or dad wanting this Fathers' Day? You might just win that special something!