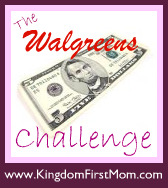 Welcome, my fellow Walgreens fans! It's Sunday, time for our weekly Walgreens $5 Challenge.  The place to come for simple scenarios with step-by-step instructions.
There are a lot of great school supply deals this week at Wags. Grab your weekly ad, a printer and some scissors to get started. Be sure to pick up the new August Coupon Book, now available in stores.
If you are new to shopping at Walgreens, and wanting to learn the basics, check out this post. New to couponing? Learn the lingo here.
If you are a first time visitor, here's the lowdown:
Join me each week as I host The Walgreens $5 Challenge!

Seasoned WAGS shoppers: share your best scenario(s) for the upcoming week at Walgreens.
Your budget: $5.00 out-of-pocket cash.
Your mission: to grow that $5.00 into more Register Rewards (RR) to use in upcoming weeks.
Want to participate? Start by reading the rules here.
*********************************
Here is MY $5 Scenario for the week of August 1st:
*coupons in red (scenarios never include tax as this will vary by region)
Transaction #1
Buy (2) Kellogg's Cereals @ 2/$5.00
- $1.00/2 Kellogg's cereal printable coupon
Total After Coupon = $4.00
RRs Earned= $1.00
Transaction #2
Buy 1 Crayola Crayons 24-pk @ $1.00
Pay with $1.00 RR from above
Total After RR= $0.00
RRs Earned= $1.00
Grand Total OOP=$4.00
Total Value= $6.00 with $1.00 Register Rewards remaining
Keep rolling those RR's for more savings!
*************************************
Let's see what fabulous scenarios you come up with for $5.00 or less!
Simply post your scenarios on your blog, then drop by Keeping the Kingdom First and add your permalink to Mr. Linky below. (If you are reading via email or in a reader please click through to see the Mr. Linky)
Please link directly to your scenarios. Links directly to your homepage will be deleted. Linking back to this meme to share it with others is greatly appreciated!
Don't have a blog? You can leave a comment with your scenario, too. I invite everyone to participate.