All month long, I'll be sharing giving ideas and causes as part of The 30-Day Giving Challenge. The following is a guest post from Denise of Denise in Bloom.
This is the sound of hope, the sound of a chance to help a person in greater need
than myself.
Clink, Clink, Clink…
As I drop my loose coins into my humble jar, I ponder and pray. Who will need my saved up coins this Christmas season? Who will cross my path that I can bless?
Hard to believe my spare change could really change a life. Maybe it won't change a person's life in big ways, but hopefully in small ways. Maybe something obvious… A new pair of shoes, a bag of groceries, paying an overdue bill. But maybe, just maybe, an unseen change. A heart filled with hope and renewed trust through the power of giving.
Clink, Clink, Clink…
I have been dropping my leftover change in my jar all year now. Our family Christmas jar sits in its appointed place on my kitchen window sill… slowly filling up over the year. As I wash dishes I look at the jar and pray. Pray for the recipient who will not need to know from where the gift came, but hoping they feel the love and prayers that come along with this gift.
Most of all that this unknown person will find a deeper meaning behind my simple canning jar full of coins. I pray there is a heart renewed this Christmas season.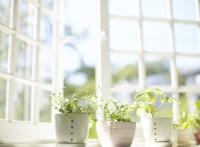 Our family was introduced to the Christmas Jars last year. We only heard about this giving opportunity in November on the Glenn Beck show. Glenn was interviewing the author Jason F Wright, of a book called Christmas Jars. As my husband and I heard this interview, and Jason said it was about One Jar, One Birth, One Savior, we knew we had to start the Christmas Jar tradition in our family!
We only had about 6 weeks to collect change. We scrambled around and began to find change all over our house. Every day we would come home from Christmas shopping, placing our spare change in the jar. It was exciting to see what we could collect as a family. We didn't know who we would give the jar to, but we knew God would show us who needed it the most. There was an anticipation that was priceless, and truly taught us that it is better to give than receive. And… the true meaning of Christmas.
As Christmas Day drew near, it became evident which family we would secretly bless with our spare change. Sneaking up to the front porch of the house and leaving our Christmas Jar was a thrill like no other. I knew we as a family, would never be quite the same, and I prayed it had that impact on those who we were blessing.
Maybe you would like to start a new tradition of a Christmas Jar in your home? Some families have each of their children fill up their own jars. I have heard of co-workers, school children, and Sunday school classes all working together to fill up Christmas Jars. The ideas are endless! This month I have been sacrificing my Starbucks money in hopes of collecting more change.
I highly recommend reading Christmas Jars
this month. It is a quick read and very touching. It is recommended that you give the book with the jar. As the person receives the jar, they then read the book, and in most cases turn around and begin to do the same thing for others as a result. It is viral and catches on!
Clink, Clink, Clink…It's a beautiful sound.
Denise is just a simple gal with simple ways, who happens to love cottage style and all things about decorating. Her goal at Denise in Bloom is to inspire you to find beauty in the everyday.