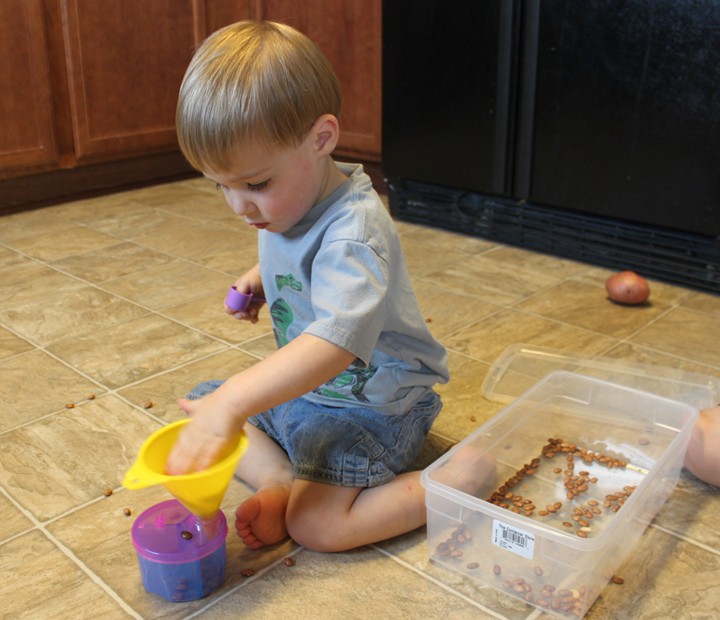 The following is from contributing writer Sarah of Frugal Fun for Boys
Two of my boys (ages 2 and 4) spent over 40 minutes the other day playing with nothing but pinto beans and various kitchen containers. This reminded me of an important concept that we often forget:  Kids are entertained by very simple things!
There's little need for fancy toys – all you need are things to pour, touch, squish, or build with!
In the photo above, my boys were using a plastic shoe box ($1.49) that we use to hold dried pinto beans.  Sometimes we play with construction vehicles in the beans, and sometimes we use dishes from our play food box and pretend to cook.  Today, we used a little three section baby formula powder holder, a funnel, and a scoop from a formula container.  My 4 year old also used a pair of plastic pliers from a toy tool set to pick up beans one at a time.  I was amazed at how long that held his interest!  Sure, I had to sweep the floor when they were done, but it was 40 minutes of peace while they explored the beans!
Other ideas for simple play:
Make sculptures with aluminum foil. This activity is something we'll be doing soon… especially since our two year old unrolled an entire roll of foil!
Keep junk mail and paper scraps for hole punching and cutting. I'm not a fan of "beginning cutters" going through pages and pages of construction paper, or worse, cutting up books!  Saving some junk mail to cut is an easy way to keep preschoolers busy.  Another fun variation is to provide kids while a hole punch some scrap paper and let them have at it!
Make some homemade playdoh. You can find a great recipe here.
Build a fort with sheets and blankets. You can't go wrong with this activity!
For older kids, here's a way to Repurpose old cd's into a fun spinning toy!
And while school supplies are so cheap, pick up some white glue to make this simple silly putty recipe! It's super fun to squish!
What items around the house do your children enjoy playing with?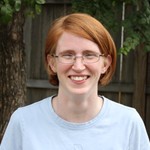 About Sarah Dees
Sarah is a Christian mom of three sons who shares inexpensive ways to keep boys busy at Frugal Fun for Boys. She features activities, homeschooling tips, and thoughts on teaching boys God's Word. You can connect with her on Twitter and Facebook.
Read more by Sarah -> | Blog