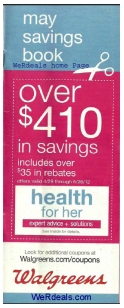 There is a new May Coupon Booklet full of Instant Value Coupons now available at Walgreens! You should be able to find them in front of the store right by the weekly ads. The book (pictured above) reads "Save over $410."
Keep in mind that all the coupons are Walgreens Coupons (IVCs) and can be combined with manufacturer coupons. They expire May 26, 2012. Be sure to reference these when planning your weekly $5 Challenge scenarios!
Here are my favorite coupons from the book:
$2.50/1 Azo Cranberry Softgels
$2.00/1 Bausch & Lomb Re-Nu Fresh or Sensitive Multi-Purpose Solution
$1.00/1 Blue Diamond Almonds
$1.00/1 Cottonelle Bathroom Tissue
$2.00/1 Depend Underwear or Poise Pads
$1.00/1 Dial for Men Speed Foam Body Wash
$2.00/1 Dove Cream Oil Lotion
$1.00/2 Hershey's Chocolate Bars
$2.00/1 Huggies Little Swimmers
$2.00/1 Huggies Pull-Ups Training Pants
$1.00/2 Mars M&M's Chocolate Candy
$2.00/1 Neosporin Lip Health
$10.00/1 Photo Purchase of $30.00 or More
$3.00/1 Revlon Pedi-Expert Pedicure Kit
$2.00/1 Shea Moisture Hair Care
$1.00/1 Simply Saline Nasal Mist
$5.00/1 Slo Niacin
$2.00/1 Vitafusion Fiber Well Gummies
For a full list of the coupons, please see Deal Seeking Mom.
Thanks to WeRDeals for the photo.