Coupon Insert Preview: September 9, 2012
Posted By Amy On September 8, 2012 @ 6:30 am In Weekly Coupon Preview | No Comments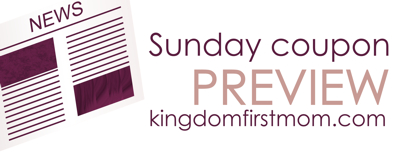 [1]
Happy Saturday! There will be 3 inserts this weekend: 2 SmartSource and 1 Red Plum.
Keep in mind that coupons always vary slightly by region. All new coupons have been added to the Coupon Database [2].
If you are in need of more coupons this week, check out my coupon resources [3] page.
Here are the best high value coupons I see:
SS #1
$3/1 Bausch + Lomb Ocuvite Product
$1/1 Brut Fragrance or Deodorant
$4/1 Claritin Product
$1/1 Colgate Optic White, Total Advanced or Sensitive Pro-Relief
$1/1 Infusium23 Shampoo, Conditioner or Leave-In-Treatment
$5/1 Miralax Product
$2/1 Nature's Way Alive! Multi-Vitamin Product
B2G1 Free Rachael Ray Nutrish Naturally Delish
$2/1 Rachael Ray Nutrish Super Premium Food For Dogs
$2/1 Revitalens Ocutec Multi-Purpose Disinfecting Solution
$5/1 Revlon Foundation, Powder, Primer, Blush or Concealer
$1.50/1 Starbucks Coffee
$1/1 Starbucks K-Cup Packs
SS #2
$7/1 Allegra Regular or Allegra-D
$1/1 Aveeno Product
$2/1 Clear Care Cleaning and Disinfecting Solution
$2/1 Neutrogena All-In-1 Acne Control Facial Treatment
$2/1 Neutrogena Ultra Gentle Daily Cleaner
$2/1 Opti-Free Puremoist Contact Lens Solution
$0.75/1 Pepperidge Farm Baked Naturals
$1.50/2 YoCrunch Greek
RP
$1.50/1 Beneful Baked Delights Dog Snacks
$2/1 Beneful Dog Food
$1/1 California Pizza Kitchen Product
$2/1 Garnier Moisturizer
$2/1 L'Oreal Everstyle Product
$1/1 Listerine Ultraclean Mouthwash
$1/1 Maybelline New York Foundation or Powder
$3/2 Purina Busy Chew Treat
$2/2 Right Guard Total Defense 5 Deodorant, Body Wash or Bar Soap Product
For the full list of coupons in tomorrow's paper, check out Sunday Coupon Preview [1].
In other coupon news:
For a preview of Walgreens deals next week, stop by Couponing 101 [6]. For the scoop on CVS, visit Deal Seeking Mom [7]. To see what is going on with Rite Aid, see Coupons On Caffeine [8].
Join me tomorrow for our weekly $5.00 Drugstore Challenges [9]!
---
Article printed from KingdomFirstMom.com: http://kingdomfirstmom.com
URL to article: http://kingdomfirstmom.com/2012/09/coupon-insert-preview-september-9-2012.html
URLs in this post:
[1] Image: http://kingdomfirstmom.com/coupon_preview
[2] Coupon Database: http://kingdomfirstmom.com/coupon-resources/coupon-database
[3] coupon resources: http://kingdomfirstmom.com/coupon-resources
[4] printable coupons: http://kingdomfirstmom.com/2012/09/new-printable-coupons-dove-dr-pepper-larabar-and-more.html
[5] retail and restaurant printable coupons: http://kingdomfirstmom.com/2012/09/retail-and-restaurant-coupons-round-up-weekend-of-99.html
[6] Couponing 101: http://www.couponing101.com/category/walgreens
[7] Deal Seeking Mom: http://dealseekingmom.com/tag/cvs-deals/
[8] Coupons On Caffeine: http://www.couponsoncaffeine.com/search/label/riteaid
[9] $5.00 Drugstore Challenges: http://kingdomfirstmom.com/5-dollar-challenges
Click here to print.