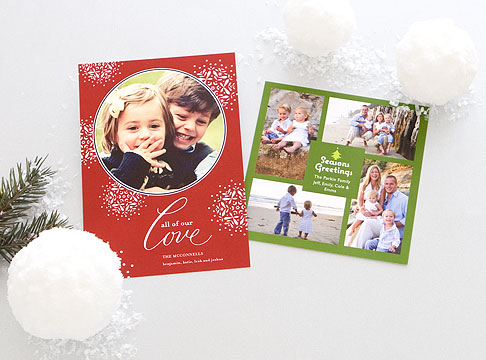 Are you on Pinterest yet? If not, there is no better time to be on Pinterest than during the holidays. Ideas and inspiration galore! Now you can get inspired, have fun, and win prizes by participating in a Pinning Party™ with my friend Amy of @Resourceful Mom.
Amy has teamed up with the lovely Tiny Prints to celebrate the holiday and help you plan your Christmas cards. Together they are hosting a Pinning Party™ on Tuesday, November 20th from 2:00 to 3:00pm EST.
Participating is simple and fun, all you need to do is use Pinterest the way you normally do! Choose your favorite way to participate from the four options below:
1. Between now and the end of the event, contribute your holiday fan favorites pins to the Tiny Prints Holiday Fan Favorites Board!
To be added as a board contributor, add the information associated with your Pinterest account to this form: Join the Fan Board!  We will add you as a contributor and you can get started pinning right away!
2. Repin your favorite images from the Tiny Prints Holiday Trends boards to any of your Pinterest boards using the hashtag #TinyPrintsHoliday in your pin.
Holiday Trends: Unexpected Modern
Holiday Trends: Black, White, Bright
Holiday Trends: Delightful Greetings
3. Pinning any of your favorite products at TinyPrints.com to any of your Pinterest boards using the hashtag #TinyPrintsHoliday in your pin.
4. Participate in the party Thursday night on Twitter.com in the hashtag #TinyPrintsHoliday
That's right! There are FOUR ways to pin, tweet, and win. Prefer to tweet? Tweet to win! Love to pin? Pin to win!  There is something for everyone at this event!  Pin to your heart's content then join us Thursday night on Twitter for more pinning fun and to hear the winner's announced.  We can't wait to see you at…
Tiny Prints Holiday Pinning Party™
When: Tuesday November 20th from 2:00 to 3:00 p.m. ET
Where: #TinyPrintsHoliday on Twitter
Don't have a Pinterest account?  No worries!  Sign up for your free account at Pinterest.com.  Winners will also be selected from those tweeting in the tag during the party hour.
Head over to Resourceful Mom to RSVP and check out the sweet prizes. Happy Pinning!
This is a sponsored post. As always, all opinions are 100% mine!