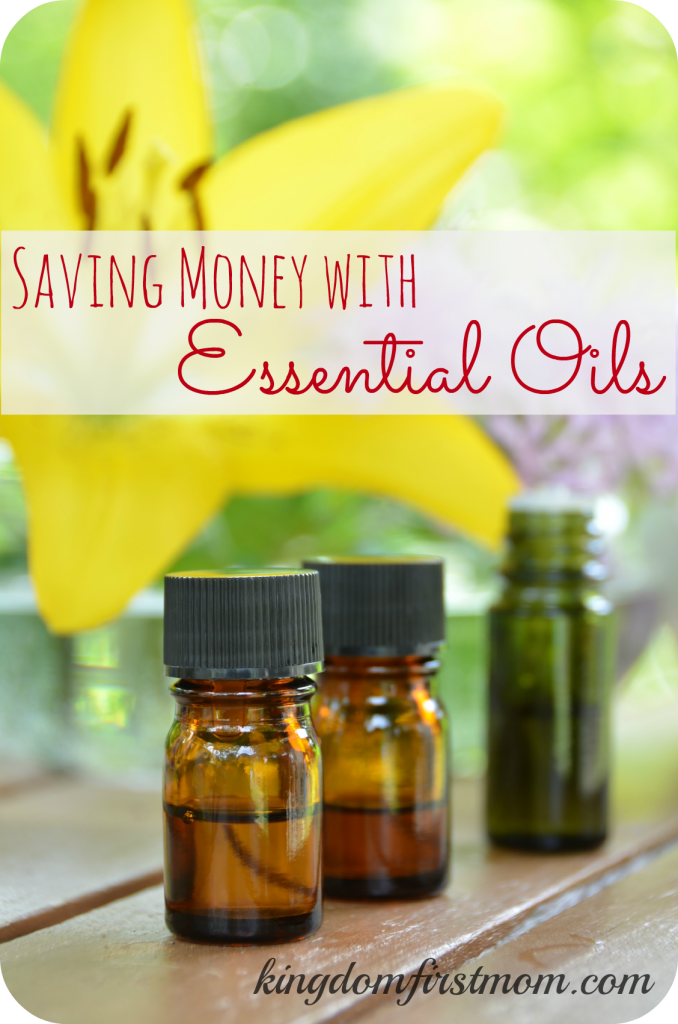 If you have been reading KFM for any length of time, you know that natural living is important to me. A frugal lifestyle can look different for everyone, but I have found that eating well and avoiding pharmaceuticals when possible is a major budget stretcher. So when I discovered essential oils, it was a perfect fit!
One year ago this month, I attended a class in a dear friend's home about using essential oils for better health. I was fascinated with the history and complexity of the oils, and was eager to learn more. That night, I took the plunge and invested in my first starter kit. Since it was not the most frugal decision (ahem, or so I thought), I had no intention of sharing my love for oils with my blog readers. But now, after a solid year of using oils for my family's health, I can honestly look back and say that essential oils have indeed saved us a lot of  money. And since I happen to have a frugal blog, I am thrilled to finally share this part of my life with y'all.
Over the next few weeks, I will be sharing specific ways that essential oils can save you money. But don't just take my word for it! "Oilers" love community, so I asked a private Facebook group for testimonials about how oils have saved members money to share with my readers. These may seem to good to be true, but keep reading with an open mind. I think you may see why I can't keep these oils to myself any longer.
"A few weeks ago I had a nasty (self-diagnosed) sinus infection, the 2yo had the same pneumonia symptoms he had last summer, and the baby had a cold. Oils saved me *at least* $75 in co-pays for the 3 of us, plus whatever the prescriptions would have cost."  Amy M.

"Last weekend my 19 month old came down with a fever. Instead of taking him to the doc and paying $30 co-pay plus whatever for drugs, I put Thieves on his feet 3 times a day, had Purification going in the diffuser and RC rubbed on his chest. It took 3 days, but he did get better and never lost his appetite or energy while sick. Definitely helped him cope! For me it is the healthier alternative and the cheaper alternative." Jessie M.

"My DS has been off his 2x a day steroid inhaler for a year this spring because a drop or two of lavender a day keeps the allergies away!" Jennifer P.

"We haven't paid for a doctor since we started using them! And it's been almost a year, including this winter with all the nasty bugs!" Cindy C.

"We no longer use health insurance and haven't taken my kids to the doctor in almost a year! I know prayer, oils and diet are the reasons for this." Sonya R. 

"Hubby and I both had flu symptoms, and had to leave work early. Hubby was so bad that I had to pick him up from work, to which I had to pull over and throw up on the way there. Needless to say, all we did was use oils, so we saved 2 copays plus prescriptions for both of us. Not to mention, I'm a self employed voice teacher, so had I taken a prescription, I probably would have missed more than 1 day of income." Leah R.

"Since I make a lot of my own body washes, lotions, medicines, etc., using the oils has saved me money. Instead of buying and using a lot of dried herbs to infuse the carrier oils, I can use a single drop of Young Living Essential Oil and get a much better, stronger, longer lasting scent." Sarah W.

"A bottle of Thieves kicked the swine flu in hubby and kept the rest of us from getting it. Cost us $31 at the time. A copay is $40 for each one of us and Tamiflu is $80-100. So we spent $31 total instead of what could have been $120 per person." April P.

"Peppermint oil has been kicking my migraines. Talk about saving money on very expensive medicine!" Megan M.
A word of caution. The essential oils I use and which the above testimonials speak of are specifically therapeutic-grade oils. They cannot be found on the shelf in your local store. Those oils may be easy on the pocket book, and may smell good, but they are not safe for ingestion and I cannot speak to their results. If you are curious about which oils I chose to use on my family and how to get them, read here.
I am so thankful I took the plunge and became an "oily" family. They have been such a blessing in our lives and many of our friends' lives. I look forward to sharing more of our oily journey with you all.
Are you already an essential oil user? Share your experience! 
Disclaimer: I am not a medical professional, I am just a mom on a mission to keep my family healthy. The above statements have not been evaluated by the FDA. This blog post is not intended to diagnose, treat, cure, or prevent any disease.