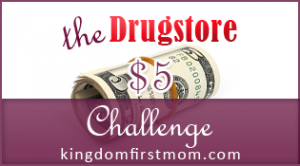 [1]
Each week on Sundays, I feature a drugstore challenge to assist you on your couponing journey.
The goal?
See how far $5.00 can s-t-r-e-t-c-h at CVS and Walgreens, and now Rite Aid! If you are new to shopping at these stores, you will be amazed by what $5.00 can buy, with coupons!
Why Sundays? Weekly sales at all three drugstores run Sunday through Saturday. You can pick up a weekly ad in the store or find one in your Sunday newspaper.
Bloggers are welcome to participate by leaving their $5 scenario links each week. Let's inspire others to learn to play the drugstore game!
:: The CVS $5 Challenge [2]
:: The Walgreens $5 Challenge [3]
FAQ's
:: Multiple Transactions [4]
:: Official Walgreen's Coupon Policy [5]
:: Coupon Lingo Explained [6]