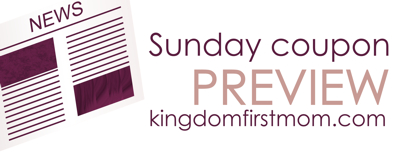 You can expect three inserts in this Sunday's paper: two SmartSource and one Red Plum.
Keep in mind that coupons always vary slightly by region. All new coupons have been added to the Coupon Database.

If you are in need of more coupons this week, check out my coupon resources page.

For the full list of coupons in tomorrow's paper, check out Sunday Coupon Preview.
Here are my favorite coupons:
SmartSource #1
$1/1 Betty Crocker Cookie Icing
$0.50/1 French's Cheddar French Fried Onions
$1/1 Hershey's Pot of Gold Chocolates, Collection Chocolate Covered Pretzels or Collection Almond Clusters with Sea Salt
$1/1 Keurig K-Cup Pack
$3/2 Neutrogena Cosmetics Product
$1/1 Pillsbury Refrigerated Cookie Dough
$0.50/1 POM Juice or Juice Blends
$2/1 Vidal Sassoon Hair Color
$0.50/1 Wonderful Almonds
SmartSource #2
$2/2 Buddig Original, Deli Cuts or Premium Deli Items
$1/2 Edge Shave Gel
$1/1 Energizer Batteries or Flashlight
$1/1 Farm Rich Snack
$1/1 Hasbro My Little Pony Friends Assortment
$2/1 Hasbro Playskool Heroes Figures
$1/1 Mitchum Men or Women Product
$3/1 Schick Disposable Razor Pack
$1/1 Schick Hydro Shave Gel
$1/1 Zarbees Children's Product
Red Plum
$2/2 All Laundry Detergents
$3/1 Arnicare Gel or Cream
$1.50/1 Emergen-C Drink Mix
$3/1 Gillette Female Disposable Razor
$1/1 Nivea Body Lotion
$3/1 Oscillococcinum, Coldcalm or Chestal Product
$0.75/2 Suave Kids Conditioner, Shampoo or Body Wash
$1/1 Thermacare Cold Wrap or Heatwrap
$0.50/1 Werther's Original Baking Caramels
For a preview of Walgreens deals next week, stop by Couponing 101. For the scoop on CVS, visit Deal Seeking Mom. To see what is going on with Rite Aid, see Coupons On Caffeine.
And don't forget about our weekly $5.00 Drugstore Challenges on Saturday night!