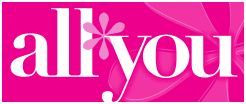 ALL YOU Magazine is a fantastic monthly resource for coupons. Each issue contains at least $60.00 worth of savings and will pay for itself in no time. ALL YOU also features lots of money saving ideas from readers, along with quick and affordable recipes.
Where do I purchase ALL YOU magazine?
ALL YOU magazine can only be purchased at Walmart ($2.24 per issue) or through a subscription delivered to your mail box monthly. It is the only magazine I feel is worth a subscription.
How do I subscribe?
You can now purchase a 12-month subscription online directly through ALL YOU [1] for just $1.67 per issue (includes a free gift!) or a 6-month subscription through Amazon.com.
Your first issue should arrive in 6-10 weeks. Subscriptions make a great gift for fellow couponistas!