Welcome to the Walgreens $5 Challenge! Every Saturday night I will post my best scenario on how you can get great products at Walgreens for under five bucks.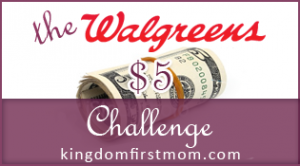 Want to participate? All you need is a Balance Rewards Card, a Walgreens ad, a printer, and coupons to get started. Use the new Ibotta app to save even more!
Here's how this works:
Your budget: Start with $5 out-of-pocket cash.

Your mission: To grow that $5 into even more Register Rewards (RR) to use in upcoming weeks.
If this is your first time here, start by reading the rules here.
Here is my scenario for this week's Challenge. Feel free to leave the link to your scenario in the Linky below, or if you don't have a blog, share your scenario in the comments!
Walgreens $5 Challenge for the week of May 5th – 11th, 2013
*coupons in red
Transaction #1
Buy (1) Breathe Right Extra Nasal Strips @ $4
- Use (1) $2/1 Breathe Right Extra
Total after Coupon = $2
RRs earned for purchasing (1) Breathe Right Extra Nasal Strip – $4
Transaction #2
Buy (1) Calagel Itch Relief @ $5
- Use $4 RRs from Transaction #1
Total after RRs = $1
RRs earned for purchasing (1) Calagel Itch Relief – $5
Grand Total OOP= $3
Total Value= $9 with $5 RRs to use next week! Keep rolling those RRs for more savings!

Let's see what fabulous scenarios you come up with for $5 or less!

Please link directly to your scenarios, not your homepage. Linking back to this meme to share it with others is greatly appreciated!